I love  downloading the latest fashion apps, not because I'm bored or don't have anything better to do. I just enjoy the idea of looking at different styles of clothing that I can buy or use as style inspiration. I mean, who doesn't love that right?
Because if I'm looking for a dope dress that would be perfect for a romantic date night with my boyfriend, I can just use my fave fashion app to find it. That's the 'beauty' of a fashion app. First of all, why would I even want to spend hours and hours in a store trying to find a dress that I probably won't be able to try on because I'm going around in circles and acting like a crazy woman. To be totally honest with you all, I could  actually picture myself doing that. #NotACrazyWomanThough
But for real, fashion apps are the sh*t, there much more affordable and you can download the apps for FREE. Yes I said it, FREE. No I'm not joking. If you don't believe me, go ahead and be my guest, check them out for yourselves.
Oh wait, I just remembered I haven't even told you my must-have fashion apps yet for you to try out!
FYI: I am not an app hoarder!!!
Courtesy of forbes.com, here are a few (not 12, that's too many to include!) of my must-have fashion apps for you fashion app lovers out there:
BTW ALL PHOTOS BELOW ARE FROM the forbes.com article and Pinterest.  I DO NOT OWN ANY OF THEM OKAY!
THE HUNT
A fashion fave amongst celebs such as Kylie Jenner, Kat Graham, Singer Madison Beer, and YouTube Sensation Amanda Steele. The Hunt allows you to act as your own 'personal shopper'. There are tons of outfit choices and so much variety that you wouldn't know where to start first! Do I buy this monochrome mini, or this oh-so fabulous black velvet dress? Ah so many choices, so little time to decide. The great thing about fashion apps is that you don't need to rush it. take as much time as you need. While you are in fashion coma grab some of that delicious vino (I prefer beer) sit back and relax. Besides, a little liquor never hurt anyone!
It also allows you to interact with other users by 'posting photos of the items they are looking for'.
 LIKEtoKNOW.it
This app enables Instagram users (such as myself) to hit 'like' on any of the fashion photos they love or an outfit they are dying to try on. Each photo is captioned with http://www.liketk.itlinks, and then will send users an email of the photo they previously 'liked'.  Along with the 'associated ready-to-shop product description and other details'. It's like a chicer version of Pinterest basically. And less of a hassle for you fashion and Instagram lovers.
The publishers goal for the app is to see how people respond to it, how much they LOVE hitting that 'like' button, that is what makes LIKEtoKNOW.it more enjoyable.
Covet Fashion
I found this app quite interesting and easy to navigate. Actress Nina Dobrev is the app's newest celebrity host, BTW. You get to dress her up in fabulous clothes and designer duds! It's the perfect virtual experience for all fashion fans. Also it enables 'consumers to directly engage with current fashion collections from today's top contemporary brands'. I haven't used this app yet, but i heard it's really fab and some of my friends use it and they are literally OBSESSED with it! I'll try it soon!
You get to pick out some chic pieces for your fashionista (virtual gal) and see how it looks on her, how cool is that? It reminds me of when I used to go on MyScene.com or Barbie.com and dress up some of the characters online. It's a really fun experience! My boyfriend's niece would love this app, because you can just dress them up in any outfit. I know when I was a little girl I loved playing dress up and putting on my best dresses and wearing tiny pink tutu's! #SoCute #ThoseWereTheDays #BallerinaDays
Spring
I think this fashion app is great for checking out the different brands because there are so so many that you can't choose which ones to buy your outfits from! That's a good thing though, it means there is a lot of VARIETY. Where there's lots of variety, there's a lot of clothes! You can switch it up a bit. And what's more, is that amongst the many brands, Spring is the first and 'ONLY direct-to-consumer channel'. There's a first for everything!
The co-founder and CMO of Spring, Ara Katz says the app is still expanding and being improved. Well Ara, It's a lovely fashion app and super creative! I am sure all of my fashion blogger friends out there will love it just as much as I do! #FashionAppMastery
 Spring gives 'brands the opportunity to curate, create, and control ALL product and content in their individual shops' AMAZING.
ShopStyle
ShopStyle is a combo of everything you love, from fashion (women and menswear), kids clothing, accessories, toys, etc. And even home decor and designs to beautify your home. It's like your own little mini DIY app. So it definitely covers all areas and not just fashion and style. It's so different and unique from the other apps! It allows 'shoppers to access 10 million items from their favorite stores and brands'. The app also alerts shoppers via a 'notification when the items are on sale.'
ShopStyle is created by Vice President and general manager Melissa Davis.
Here are the links to each of the fashion apps/owner/founders websites:
Link to the Forbes article:
http://www.forbes.com/sites/sboyd/2014/11/25/12-fashion-app-and-style-services-that-are-reinventing-the-acquisition-of-fashion-goods/3/#4aae846a866a
For any questions you may have for the app creators, you can find their email, Twitter, Facebook accounts on their websites!
And these are just some of the outfits from the apps above.
enjoy fashion lovers!
summer inspired outfit from The Hunt #Cute
They now have a voting/poll section for users! Go and try it out!
You can get a similar version of the outfit Lauren Conrad is wearing in this photo on LIKEtoKNOWit. #Simple #Easy #Pink
Or this one via @stylemba on Instagram. Love this dress, perfect for summer! link here: http://liketoknow.it/1uUBb
OMG this one too via @songofstyle on Instagram. #GrungeVibes
To find out where she got her outfit from, visit:http://liketoknow.it/2fbov?featured
Nina Dobrev on Covet Fashion. So pretty and definitely something Nina would wear!
One of my faves on her! #NinaDobrevForCovetFashion You can check out the website here:
Photo from Spring's website/collection! #BoyfriendJeans #NudeHeels #SummerOutfit
Spring's 'I CANT ADULT TODAY' t-shirt. Love this! #Trendy #Chic #Fun #ShopSpring
their 'Leda Tassel Choker' in black by ARE YOU AM I
https://www.shopspring.com/collections/1325/products/26385354
Spring's 'Area cut out Bikini Top' by Del Mar by Berjheny
https://www.shopspring.com/collections/1325/products/196661
Spring's 'PUSS & BOOTS' sunglasses in black by Pared Eyewear (because every girl needs her signature pair of sunnies for the summer!)
https://www.shopspring.com/collections/1325/products/7041296
Spring's 'Cooperative Magnolia Shift Dress' by Urban Outfitters. #Dresses #UrbanOutfitters
https://www.shopspring.com/collections/1325/products/28779828
ShopStyle's 'Intarsia Knitted Tunic Dress' by Boden USA or 'Boden new british'
http://www.bodenusa.com/womens-dresses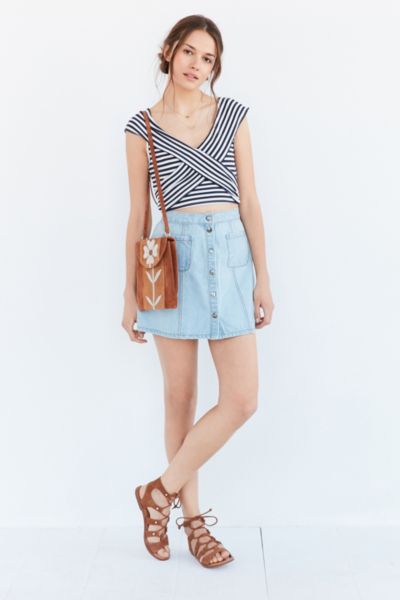 ShopStyle's Kimichi Olivia Striped cross-over top by Urban Outfitters
http://www.urbanoutfitters.com/urban/catalog/productdetail.jsp?id=39002795&cm_mmc=CJ-_-Affiliates-_-ShopStyle.com-_-11292048
Their 'Steve Madden women's Carrson ankle-strap dress sandals' by Steve Madden
(the link is too long to put it on here!)
ShopStyle's 'Contemporary Lace-Trimmed High-Slit Maxi Dress' by Forever 21
Too long of a link to put it on here. Sorry! But it's something I would totally wear in the spring and summer!
Check out all of ShopStyle's outfits on their site here:
XOXO